Welcome to the Equality Coalition's website. We are a broad civil society alliance of NGOs and trade unions that aim to promote equality in Northern Ireland. Read more about our work in the About Us section.
---
---
LATEST FROM THE EQUALITY COALITION
Equality Coalition report launch and manifesto discussion with the Shadow Secretary of State for Northern Ireland
1.30pm to 4pm, Thursday 27 June 2019, UNISON, Galway House, Belfast
With Brexit looming and talks to restore power sharing government now ongoing, what happens next could have wide-reaching consequences for the future of rights and equality in Northern Ireland. Join us at this event to explore some of the key issues at play. The event will launch the official report from our recent 'Post-Brexit Citizenship Status Divided by the Rules?' conference and facilitate further discussion around our power sharing manifesto. Speakers and panellists will include academics, equality experts and political representatives. The keynote address will be given by the Shadow Secretary of State for Northern Ireland, Tony Lloyd MP. There will be a Q&A session and lunch will be provided in advance of the event from 12.30pm. Full agenda available here.
Email events@caj.org.uk to register. Please state any access or dietary requirements.
---
---
Response to consultation on ECNI's complaints and investigation procedures Published May 2019
The Equality Commission for Northern Ireland (ECNI) has been reviewing and revising the procedures related to its enforcement (investigation) powers. These powers enable ECNI to investigate public bodies that fail to comply with their Section 75 duties. In March 2019, ECNI launched a public consultation on its (draft) 'Revised Policy and Procedures for Complaints and Investigations'. The Equality Coalition responded to this consultation with a detailed written submission, which raises several issues that we strongly urge ECNI to rectify.
Submission on ECNI's investigation powers
---
---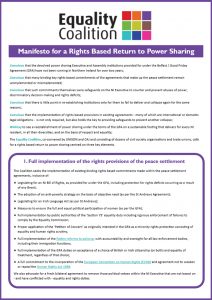 Manifesto for a Rights Based Return to Power Sharing
Published April 2019

More than two years have elapsed since the devolved power sharing institutions provided for under the Good Friday Agreement (GFA) collapsed in Northern Ireland. Additionally, many of the rights based commitments of the peace settlement, including those originally designed as to act as safeguards on the NI Executive and Assembly, remain unimplemented or have been misimplemented. Fresh cross-party talks to restore power sharing have been announced for May 2019. However, there is little point in restoring the institutions only for them to fail to deliver and collapse again for the same reasons. Conscious of this, the Equality Coalition has developed a 'Manifesto for a Rights Based Return to Power Sharing'.
Manifesto for a Rights Based Return to Power Sharing
---
---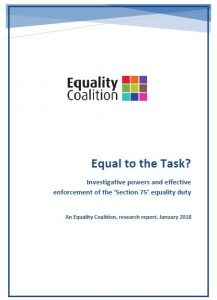 Equal to the Task? Investigative powers and effective enforcement of the 'Section 75' equality duty – an Equality Coalition Research Report
Published January 2018
Notwithstanding significant pockets of good practice, it has been a strategic concern of the Equality Coalition for some time that the Section 75 equality duty is being regularly flaunted by many public authorities. This report examines the current situation and makes recommendations to improve adherence to the statutory equality duties going forwards.
---
---
Meeting Objective Need: Towards an Anti Poverty Strategy for Northern Ireland – Conference Report
Published March 2017
The outcome of this conference from the NI Anti-Poverty Network and the Child Poverty Alliance was the development of seven key principles that should be taken forward by officials when developing an anti-poverty strategy to meet objective need and tackle social patterns of deprivation.